It's coming up on two years since our kitchen in Grand Canal Street started our sustainability programme as outlined by the Sustainable Restaurant Association. The SRA gave us a great base from which to work off of, and immediately highlighted areas that we needed to improve upon. Food waste, sourcing produce and single use disposables made up the bulk of what needed tweaking.

When it comes to food waste we implemented many changes, some worked, some didn't. Starting with the positives, we began composting all of our food waste, everything from used coffee grounds to egg shells. The entire team at GCS really got on board with this project, so much so that after 3 months our compost bins were already full. The reality then set in that the compost would take several months to break down before it could be used.
In hindsight there were things we could have done to speed up the process. By alternating layers of food waste with cardboard or chaff from our roastery, the waste would have decomposed much faster. I think our eagerness to get rid of our food waste in a more sustainable way meant we over burdened the compost bins. The second issue once the compost was ready was how to use it in the best way. Packaging it in spent coffee bags used to ship our wholesale coffee and giving it to staff and customers has been a huge hit, and I can personally say that my chilli plants have benefitted! Keeping on top of the compost has been a personal challenge for me as it's often something that can slip my mind, but I'm confident that we can make improvements on it going forward by allocating time to food waste rotation and bagging up the compost.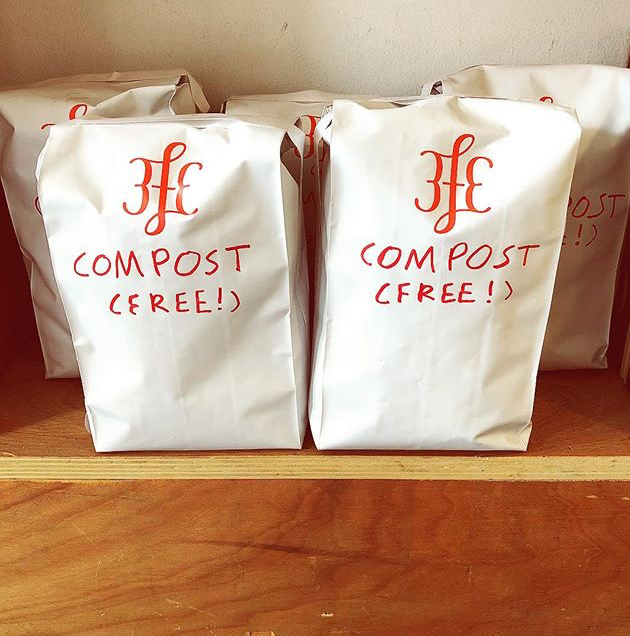 Our homemade compost hitting the shelves earlier this summer.

When making cappuccinos there can often be some milk leftover after steaming. Normally this goes down the drain but we thought that there must be a way to utilise this better. We started saving the milk and using it to make ricotta and yogurt which during the colder months was a great success. We continued to do this but coming into the summer months, flies became an issue. The problem was that we had to figure out a way for the baristas to quickly cool the extra milk after it had been steamed. During the winter we just stored it in a small container that was transferred into the fridge every ten minutes. In the summer though, even ten minutes became too long and it began to interfere with workflow on bar. In the future we are going to look into ways to cool the milk quicker in order to make it as safe and efficient as possible.

Food waste in the kitchen has been consistently low since we started our sustainability campaign. In order to get an accurate reading of how much food we were wasting we separated our food waste into a bucket and weighed it at the end of each day. Initially we were wasting 6-8 kilos of food each day but we have since cut this down to 2kg. Every brownie corner is turned into a cake truffle, every broken flapjack becomes granola. Chicken bones from our chicken for sandwiches become stock, vegetable skins are washed and turned into puree's. Banana skins are frozen, blitzed and put into banana bread. Even mushroom stalks are dehydrated and used to make "umami powder", a welcome seasoning on practically everything. Excess bacon fat is used to make smoked bacon almonds. Everything has a use and nothing goes to waste. Every chef in 3fe lives and works with this ethos and it's something we can stand over and be proud of.
When it comes to our suppliers in 3fe, I think that all of our staff can agree that we're at an all time high when it comes to quality and sustainability. We have continued our working relationship with The Whole Hoggs, Village Dairy, Little Cress, M&K Meats, Dublin Food Sales and Caterway to name a few.
Chefs Holly and Rob on a recent visit to The Whole Hoggs.

Some other suppliers have recently come on board which have a passion and focus on sustainability that we're excited to be working with. Sustainable Seafood Ireland have pledged to supply only the most ethically sourced and sustainable seafood available. This has led to fish tacos and fish finger sandwiches that can be enjoyed with a clear conscious. Another supplier who we're delighted to be working with is Bread Nation. Bread Nation work exclusively with organic grains and flour to provide the best bread and pastries available. They are Dublin's first certified organic bakery and we're very fortunate to be working with them from the beginning.
Single use disposables are something that unfortunately we go through a lot of. We've made progress in the last two years but as with everything there is always room for improvement. Our takeaway coffee cups are now recyclable, with our takeaway food containers and cutlery being compostable. We're still working through a backlog of some plastic disposables that we have but these will be phased out in the coming months and replaced with compostable or recyclable alternatives.
There are many items used in the kitchen which we have yet to find a sustainable replacement for, including cling film, tin foil and plastic gloves but we are busy looking for sustainable alternatives to these.
Undertaking this sustainability campaign has shown us how much work we have done in the last two years at GCS but also the areas which we need to improve upon. A more efficient composting system, ways to use waste milk safely, and removing single use plastic disposables are all goals we want to achieve in the coming year. The commitment and drive of all of our staff at Grand Canal Street has shown that these goals are very achievable.
Holly Dalton