As our sustainability programme develops, we've been trying to take a big picture approach in order to assess where we can have the biggest environmental impact. At the end of the day, we are primarily a coffee company, so we thought that was a good place to start!
Recently, we've been looking at Life Cycle Assessments (LCA) for coffee. LCA is basically a system for gauging the environmental impacts of a product at each stage of the product's life, which in coffee's case goes from cultivation & harvesting, roasting, consumption, and all of the transport and logistics in between. It incorporates things like energy use, water consumption and carbon emissions to determine the focus points for environmental management. We had some preconceptions of where the biggest impacts would be, and weren't surprised to learn that the irrigation stage of coffee growing contributes to the greatest water consumption. However, we were quite surprised to find that actually the biggest impact on energy use is at the final consumption stage. That's down to the energy required to heat water, grind the coffee and brew the drink, as well as the washing up after!. At the roasting stage it was the gas for roasting and packaging, but these were eclipsed by the amount of energy at the consumption stage.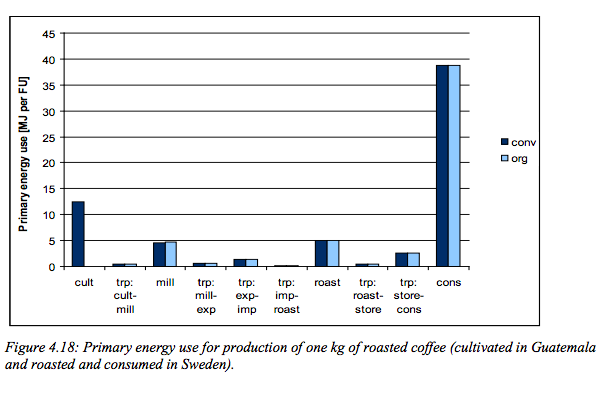 Source: Flysjö & Ohlsson
The results of these assessments are intentionally general, and can depend on many variables, but they definitely throw up really interesting questions when it comes to us choosing where to prioritise resources towards the sustainability of our products. We are now going through all of our brewing practices and equipment to see where we can reduce energy consumption, and you can expect updates on our own practices, as well as things you can do at home to brew more efficiently, in the coming weeks.
However, it's important that the LCA does not become an excuse for neglecting potential improvements at every stage in the coffee life cycle, and so with that in mind, the next few weeks' updates will be dedicated to the waste generated through our packaging and shipping.