Well, April is nearly upon us, and here at 3fe we believe in starting each quarter as we mean to go on; by tasting a ton of amazing coffee! With that in mind, we are very excited to be hosting our first Coffee Potluck this Saturday, April 1st. The aim is to taste LOTS of interesting coffees, meet like-minded coffee-lovers and have a blast! The Coffee Potluck will be a casual cupping, open to everybody. The cupping will be split into two sections, firstly tasting and discussing a selection of Canadian roasted coffees, and then moving onto an assortment of 3fe coffees (And maybe a few surprises!)
When is it: Saturday 1st April, 2.30–4.00pm. Where is it: 3fe, 7 Sussex Terrace, Dublin 4. Admission: BYOB (bring your own beans), or make a small donation to Coffee 2020.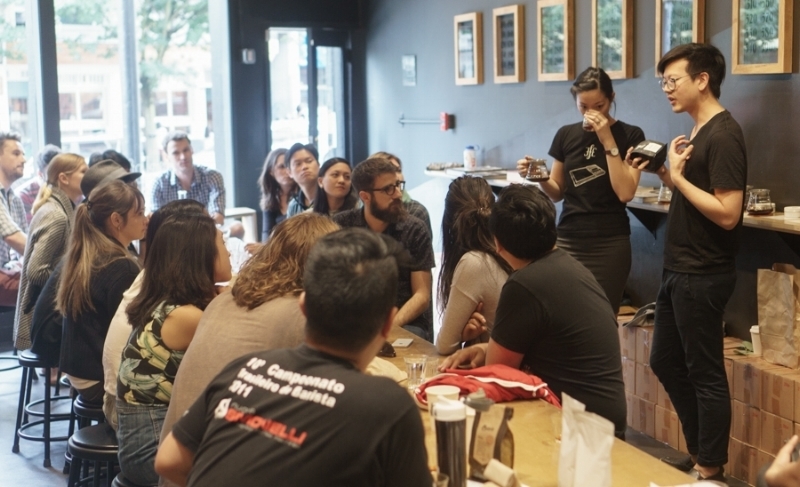 Coffee Potluck is a Canadian-based coffee project. Their main goal is to provide a strong community-base for consumers and coffee-industry folk alike to gather together, build conversations and relationships around coffee and taste lots of new things. They showcase local and international coffees at their monthly events, held in various locations around Vancouver. For the month of April, Vania (former 3fe staff member and co-founder of Coffee Potluck) is travelling throughout Europe, holding guest Potlucks at a number of cafes, with the next stop being 3fe! When Vania got in contact with us to suggest the event, our instant response was "Definitely!", followed quickly by "But what's a potluck?" For those of you (including ourselves) who hadn't come across the term before:
 Noun: POTLUCK
NORTH AMERICAN
So, in keeping with the 'potluck' concept, we would ask that guests bring along a bag of coffee they're loving at the moment, or alternatively, make a small donation on the day to our friends over at The 20/20 Coffee Project. The 20/20 Coffee Project is an Irish-based organisation, which supports poverty reduction and sustainabily programmes in coffee-producing countries in Africa and Asia, with the goal of improving the lives, health and livelihoods of local coffee producing communities. To read more about the great work they do, follow this link.
We look forward to seeing many of you next Saturday, in what promises to be a great afternoon!