Style and Functionality
Whether you're conquering the Wicklow mountain trails or zipping through the busy streets of Dublin city, you've got to understand the importance of quality cycling gear. Among the essentials, cycling jerseys take centre stage. Not only can a good cycling jersey show off your style, interests, or even which cycling club you represent, they also offer essential functional qualities for an enjoyable, & comfortable ride. Here at 3fe we have had our fair share of merchandise over the years, but today we're excited to introduce our first ever cycling jerseys, available in long & short sleeve versions.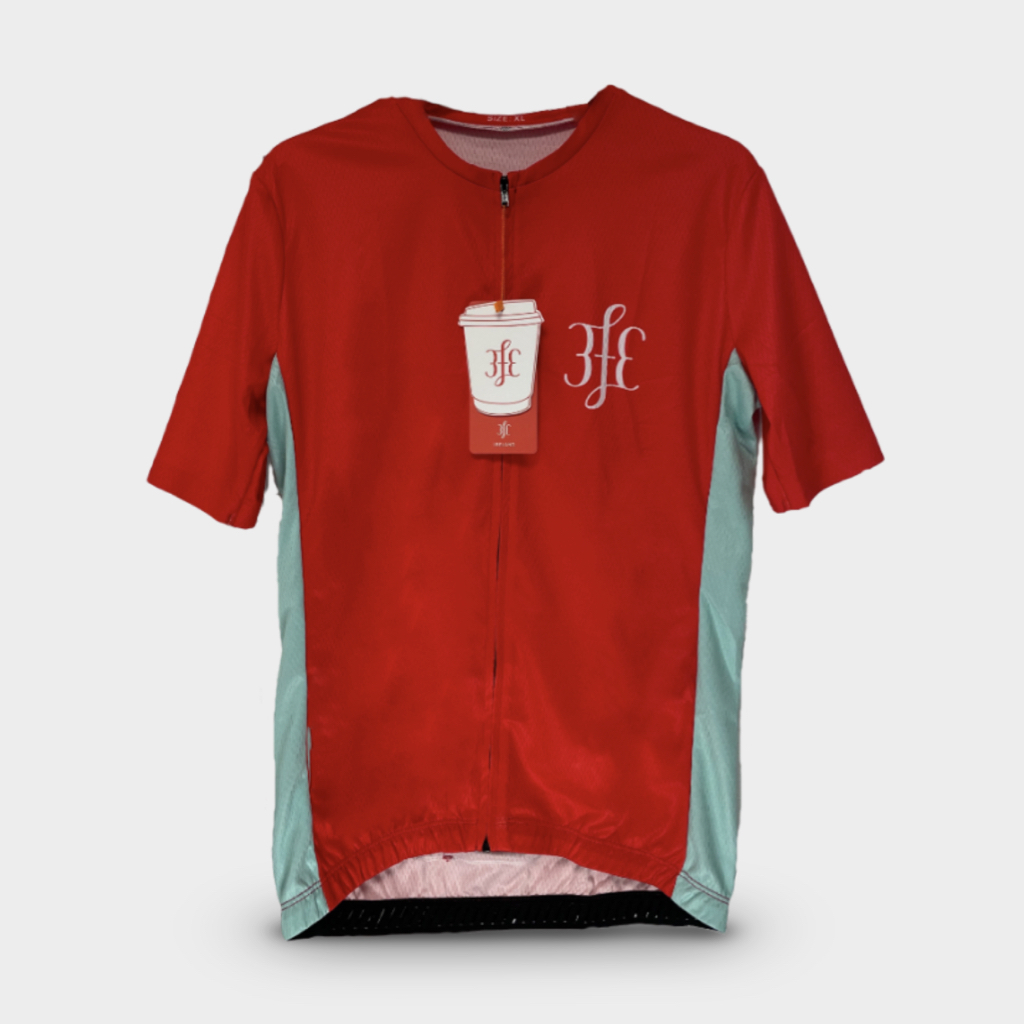 3fe Short Sleeve Cycling Jersey
Let's kick things off with the 3fe short sleeve cycling jersey. Crafted from 100% mesh polyester with a feather-light fabric weight of 145gsm. We've made this jersey using high quality light materials so you don't feel it weighing you down, keeping you cool and dry even during the most intense rides. The round neck design provides comfort, while the full-length SBS zipper at the front offers adjustable ventilation.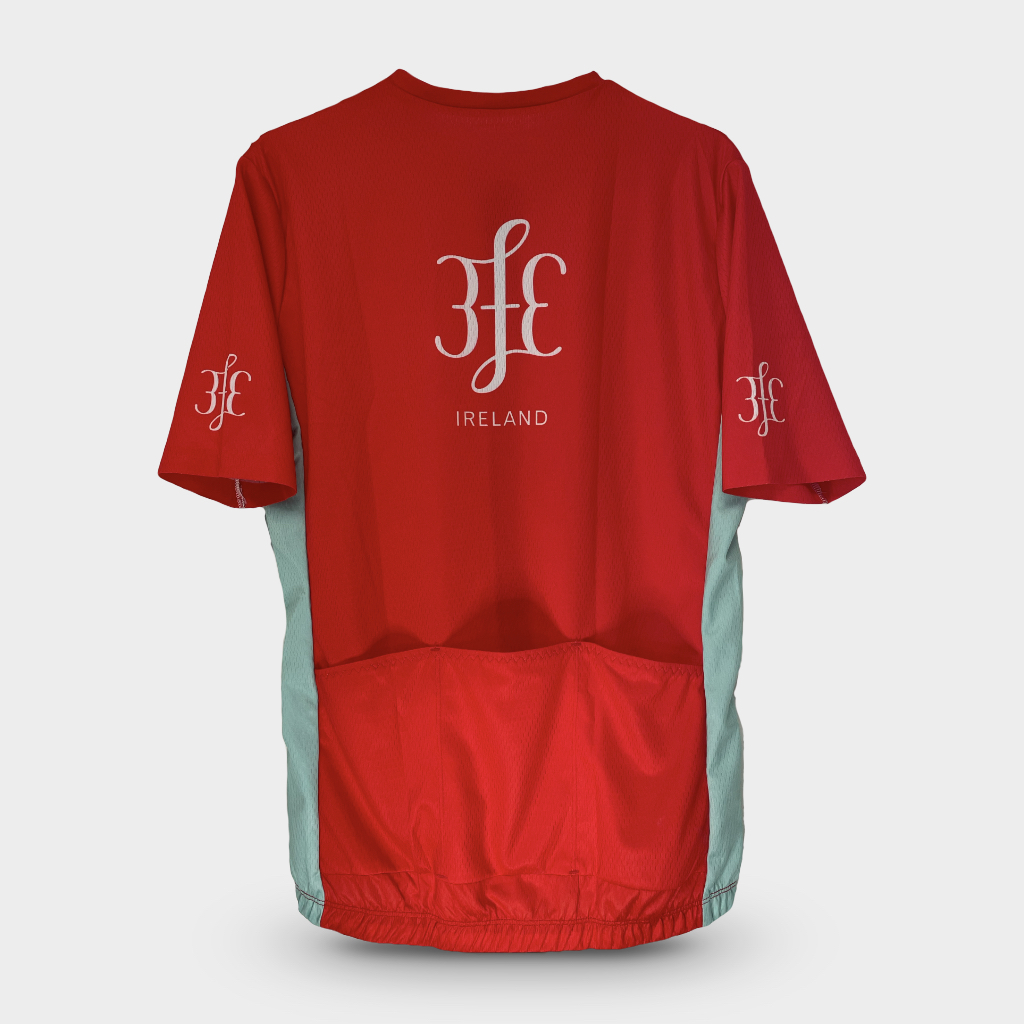 What truly sets this jersey apart are its functional qualities. The silicone gripper on the waist keeps it firmly in place, ensuring it doesn't ride up during your ride. Along with this you get 3 rear pockets on the back. These offer great storage for your essentials, whether that's energy gels, your phone, or a lightweight windbreaker.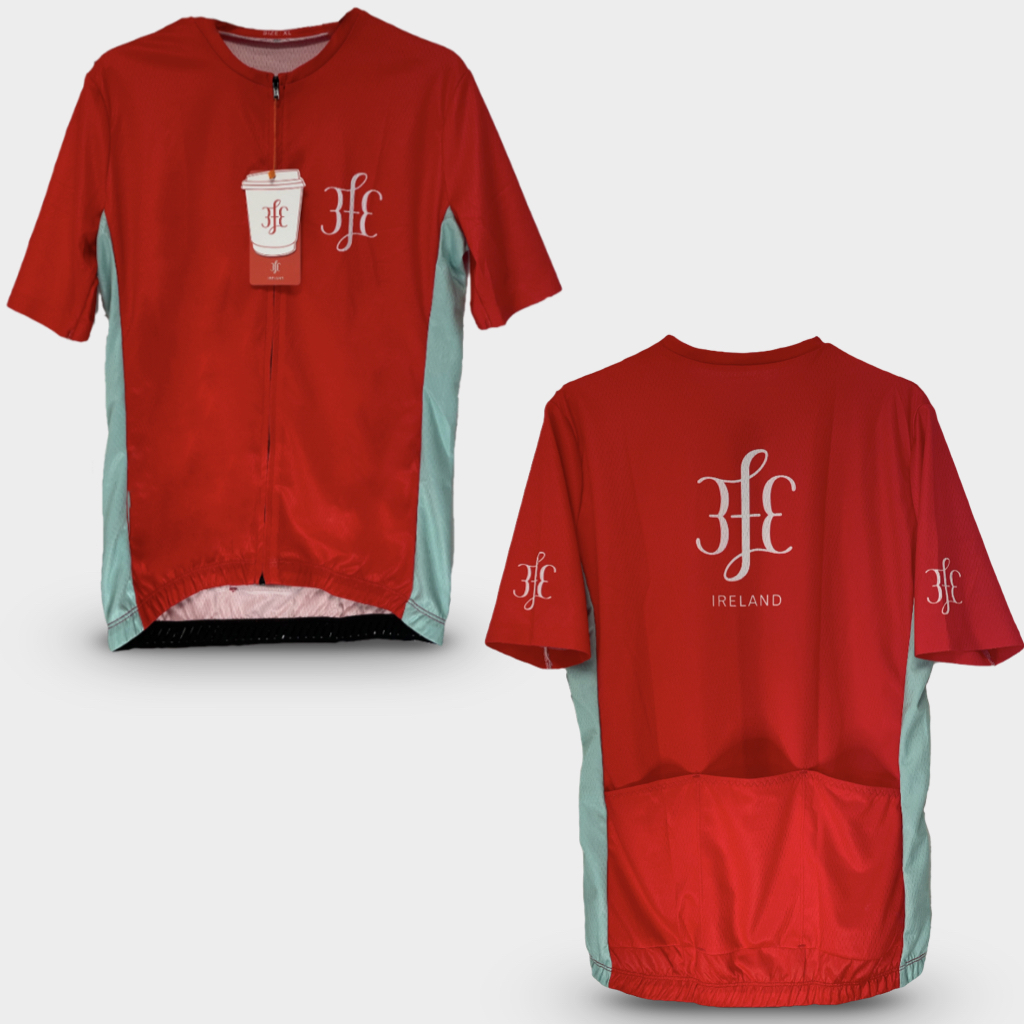 The distinctive 3fe logo, prominently printed on the front, back, and sleeves, adds a touch of personality we think it reinforces the premium quality of the jersey. We offer this top in sizes from S to 2XL. The short sleeve cycling top features a tight 'club fit' that's designed for cyclists who values a more comfortable and leisurely performance.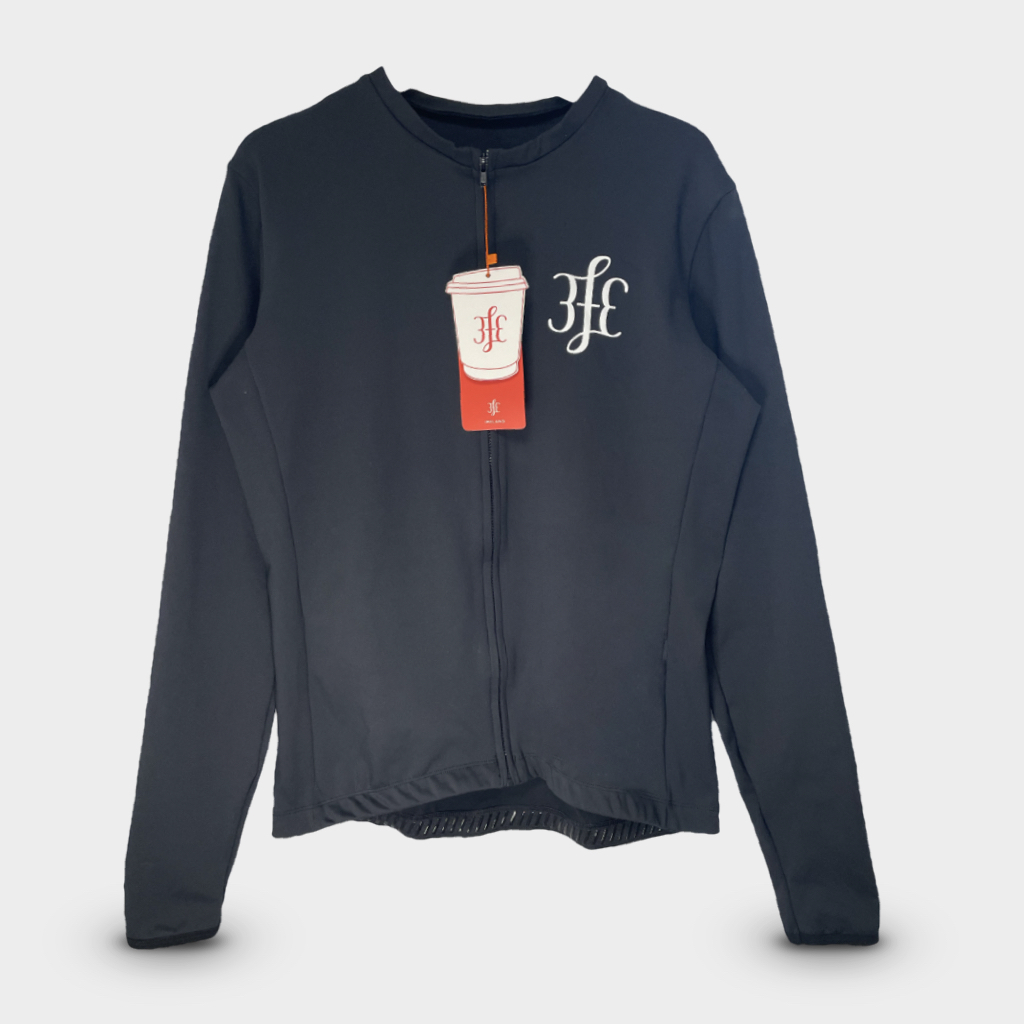 3fe Long Sleeve Cycling Jersey

For those chilly rides or when you need added sun protection, the 3fe Long Sleeve Cycling Jersey is your ideal companion. Crafted from 80% polyester, 20% elastane fleece, and a fabric weight of 260gsm, this jersey offers a bit more warmth and sun protection without sacrificing breathability. Perfect for a winter ride!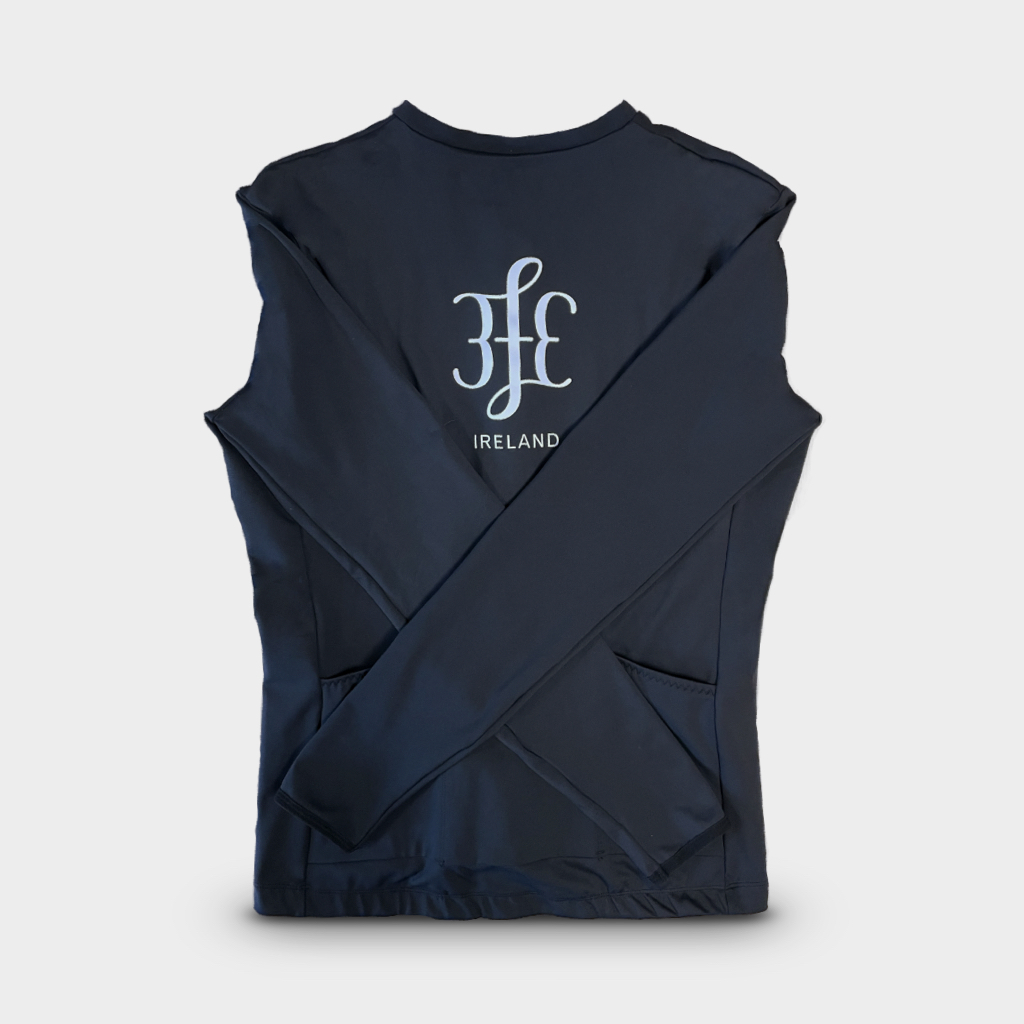 Like its short-sleeve counterpart, this long-sleeve jersey features a round neck and a full-length SBS zipper at the front. The silicone gripper on the waist ensures a secure fit, and the 3 rear pockets on the back offer the storage space we all need for our riding essentials.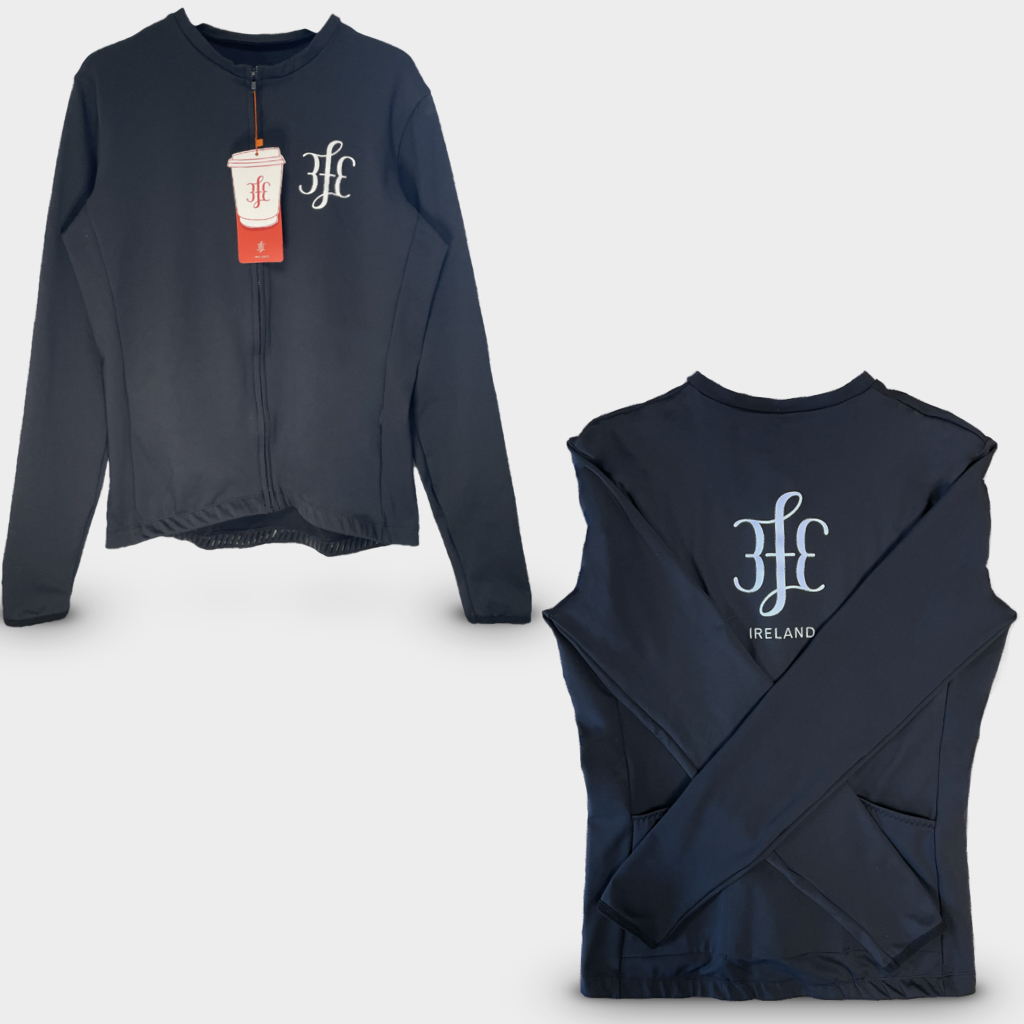 The 3fe logo, heat-pressed on the front and back, adds a stylish touch to this cycling top. Just like the short-sleeve version, the 3fe Long Sleeve Cycling Jersey is available in sizes from S to 2XL, with a 'club fit' for those of us who are not looking for high speeds!

When you have a long sleeve jersey, you're equipped for a wide range of cycling adventures. Whether you're hitting the trails or cruising through urban landscapes, a Long Sleeve Cycling Jersey has your back, providing the perfect blend of warmth, breathability, and style.

Both of our new Cycling Jersey are the perfect cycling jerseys for riders who demand both style and performance. We really hope that our these jerseys can elevate your cycling experience.
Don't forget to check the sizing chart before making your purchase to ensure a perfect fit. Please visit our Sussex Terrace location if you would like to see the jerseys in person. And remember, proper textile care will help your jersey maintain its quality and longevity.
So, gear up for your next ride with 3fe and experience cycling in comfort and style. Stock is limited, so grab yours from Sussex Terrace or get it shipped online while you can!
FAQs
What is the fit like for the 3fe Cycling Jerseys?
The 3fe Cycling Jerseys, whether in short or long sleeves, boast a 'club fit.' This fit is meticulously designed to strike a perfect balance between comfort and performance. Catering to cyclists who value both leisurely enjoyment and efficient functionality, the 'club fit' ensures that the jerseys offer ample room for movement without feeling too loose or restrictive. This design choice reflects 3fe's commitment to providing cycling enthusiasts with gear that enhances their riding experience. To find the ideal fit, potential buyers are encouraged to consult the sizing chart, allowing them to select the size that aligns with their preferences for comfort and style.
How do I care for the 3fe Cycling Tops?
Maintaining the quality and longevity of your 3fe Cycling Tops is crucial. To keep these jerseys in optimal condition, it is recommended to wash them at or below 30 degrees using a gentle cycle. Avoid ironing, dry cleaning, and bleaching, as these processes can adversely affect the fabric and printed logos. Additionally, tumble drying is discouraged to prevent damage to the elasticity and overall quality of the material. Finally, washing dark colors separately is advised to prevent color bleeding. Following these care guidelines ensures that your 3fe Cycling Tops remain vibrant, comfortable, and functional throughout their lifespan.
What makes the silicone gripper on the waist so important?
The silicone gripper on the waist of the 3fe Cycling Jerseys keep the jersey firmly in place during rides, effectively preventing it from riding up and causing discomfort. The secure fit created by the silicone gripper ensures that cyclists can concentrate on the road ahead without the need for constant adjustments. We wanted this detail because it is a common concern among cyclists and contributing to a hassle-free and enjoyable ride.
Can I comfortably store my essentials in the rear pockets?
Absolutely! The 3fe Cycling Jerseys are equipped with three rear pockets, strategically located on the back of the jerseys. These pockets are designed to offer convenient storage for various essentials such as energy gels, devices, or even a lightweight windbreaker. The placement of these pockets ensures easy accessibility, allowing cyclists to reach their items effortlessly during their rides. Whether you're embarking on a challenging trail or cruising through urban landscapes, these rear pockets provide a practical solution for carrying your riding essentials, enhancing the functionality and convenience of the 3fe Cycling Jerseys.
Why is it important to have a long sleeve cycling jersey when I already have a short sleeve cycling jersey?
A long-sleeve cycling jersey brings crucial advantages beyond its short-sleeve counterpart, providing additional defence against sun exposure and shielding arms from harmful UV rays. Furthermore, it protects cyclists from varying weather conditions like cool winds, sudden temperature drops, ensuring enhanced comfort during diverse rides. Moreover, the extended coverage reduces the risk of abrasions and cuts, contributing to more effective injury prevention. In colder seasons, the long sleeve jersey serves as a versatile layer, regulating body temperature and optimizing performance. Overall, the extended coverage and versatility make a long sleeve cycling jersey a valuable addition, complementing the benefits of its short-sleeve counterpart.